[ COVER OF THE WEEK ]

Data security Source

[ AnalyticsWeek BYTES]
>> Talent analytics in practice by analyticsweekpick
>> Data center location – your DATA harbour by martin
>> The 10 Commandments for data driven leaders by v1shal
[ NEWS BYTES]
>>
Women and Men Now Grocery Shop Equally: Study … – Progressive Grocer Under Prescriptive Analytics
>>
Fast-moving big data changes data preparation process for analytics – TechTarget Under Big Data
>>
Scientists use Tweet 'sentiment analysis' to predict Hillary Clinton win – Daily News & Analysis Under Sentiment Analysis
[ FEATURED COURSE]
Applied Data Science: An Introduction
[ FEATURED READ]
Python for Data Analysis: Data Wrangling with Pandas, NumPy, and IPython
[ TIPS & TRICKS OF THE WEEK]
Strong business case could save your project
Like anything in corporate culture, the project is oftentimes about the business, not the technology. With data analysis, the same type of thinking goes. It's not always about the technicality but about the business implications. Data science project success criteria should include project management success criteria as well. This will ensure smooth adoption, easy buy-ins, room for wins and co-operating stakeholders. So, a good data scientist should also possess some qualities of a good project manager.
[ DATA SCIENCE Q&A]
Q:Do you think 50 small decision trees are better than a large one? Why?
A: * Yes!
* More robust model (ensemble of weak learners that come and make a strong learner)
* Better to improve a model by taking many small steps than fewer large steps
* If one tree is erroneous, it can be auto-corrected by the following
* Less prone to overfitting

Source
[ VIDEO OF THE WEEK]
#FutureOfData Podcast: Peter Morgan, CEO, Deep Learning Partnership
Subscribe to Youtube
[ QUOTE OF THE WEEK]
For every two degrees the temperature goes up, check-ins at ice cream shops go up by 2%. – Andrew Hogue, Foursquare
[ PODCAST OF THE WEEK]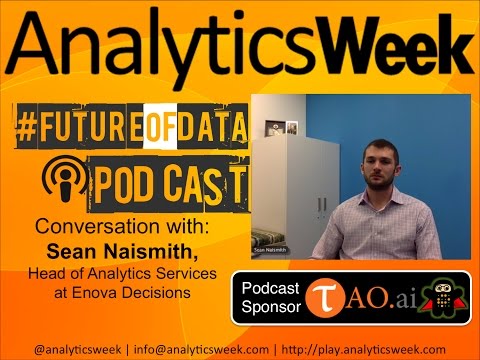 #FutureOfData Podcast: Conversation With Sean Naismith, Enova Decisions
Subscribe
[ FACT OF THE WEEK]
Estimates suggest that by better integrating big data, healthcare could save as much as $300 billion a year — that's equal to reducing costs by $1000 a year for every man, woman, and child.