Warning: file_get_contents(http://events.analytics.club/tw/eventpull.php?cat=WEB): failed to open stream: HTTP request failed! HTTP/1.0 404 Not Found
in /home3/vishaltao/public_html/mytao/script/includeit.php on line 15
Warning: file_get_contents(http://events.analytics.club/tw/eventpull.php?cat=WEB): failed to open stream: HTTP request failed! HTTP/1.0 404 Not Found
in /home3/vishaltao/public_html/mytao/script/includeit.php on line 15
Warning: file_get_contents(http://events.analytics.club/tw/eventpull.php?cat=WEB): failed to open stream: HTTP request failed! HTTP/1.0 404 Not Found
in /home3/vishaltao/public_html/mytao/script/includeit.php on line 15
Warning: file_get_contents(http://events.analytics.club/tw/eventpull.php?cat=WEB): failed to open stream: HTTP request failed! HTTP/1.0 404 Not Found
in /home3/vishaltao/public_html/mytao/script/includeit.php on line 15
Warning: file_get_contents(http://events.analytics.club/tw/eventpull.php?cat=WEB): failed to open stream: HTTP request failed! HTTP/1.0 404 Not Found
in /home3/vishaltao/public_html/mytao/script/includeit.php on line 15
Warning: file_get_contents(http://events.analytics.club/tw/eventpull.php?cat=WEB): failed to open stream: HTTP request failed! HTTP/1.0 404 Not Found
in /home3/vishaltao/public_html/mytao/script/includeit.php on line 15
[ COVER OF THE WEEK ]

Data security Source

[ AnalyticsWeek BYTES]
>> Data-As-A-Service to enable compliance reporting by v1shal
>> Logi Analytics Launches Industry First Out-of-the-Box Embedded Analytics Development Platform by analyticsweek
>> 3 Questions to Ask Your Embedded Analytics Support Team by analyticsweek
[ FEATURED COURSE]
[ FEATURED READ]
Superintelligence: Paths, Dangers, Strategies
[ TIPS & TRICKS OF THE WEEK]
Data aids, not replace judgement
Data is a tool and means to help build a consensus to facilitate human decision-making but not replace it. Analysis converts data into information, information via context leads to insight. Insights lead to decision making which ultimately leads to outcomes that brings value. So, data is just the start, context and intuition plays a role.
[ DATA SCIENCE Q&A]
Q:When you sample, what bias are you inflicting?
A: Selection bias:
– An online survey about computer use is likely to attract people more interested in technology than in typical
Under coverage bias:
– Sample too few observations from a segment of population
Survivorship bias:
– Observations at the end of the study are a non-random set of those present at the beginning of the investigation
– In finance and economics: the tendency for failed companies to be excluded from performance studies because they no longer exist

Source
[ VIDEO OF THE WEEK]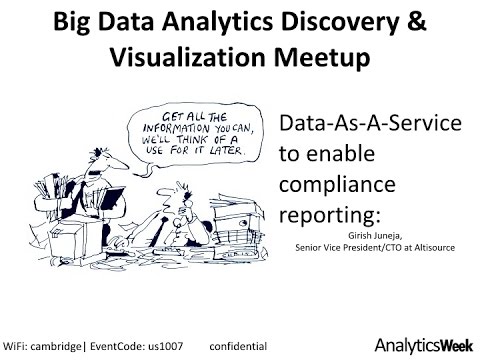 Data-As-A-Service (#DAAS) to enable compliance reporting
Subscribe to Youtube
[ QUOTE OF THE WEEK]
You can have data without information, but you cannot have information without data. – Daniel Keys Moran
[ PODCAST OF THE WEEK]
@SidProbstein / @AIFoundry on Leading #DataDriven Technology Transformation #FutureOfData #Podcast
Subscribe
[ FACT OF THE WEEK]
Bad data or poor data quality costs US businesses $600 billion annually.