Warning: file_get_contents(http://events.analytics.club/tw/eventpull.php?cat=WEB): failed to open stream: HTTP request failed! in /home3/vishaltao/public_html/mytao/script/includeit.php on line 15
Warning: file_get_contents(http://events.analytics.club/tw/eventpull.php?cat=WEB): failed to open stream: HTTP request failed! in /home3/vishaltao/public_html/mytao/script/includeit.php on line 15
Warning: file_get_contents(http://events.analytics.club/tw/eventpull.php?cat=WEB): failed to open stream: HTTP request failed! in /home3/vishaltao/public_html/mytao/script/includeit.php on line 15
Warning: file_get_contents(http://events.analytics.club/tw/eventpull.php?cat=WEB): failed to open stream: HTTP request failed! in /home3/vishaltao/public_html/mytao/script/includeit.php on line 15
Warning: file_get_contents(http://events.analytics.club/tw/eventpull.php?cat=WEB): failed to open stream: HTTP request failed! in /home3/vishaltao/public_html/mytao/script/includeit.php on line 15
Warning: file_get_contents(http://events.analytics.club/tw/eventpull.php?cat=WEB): failed to open stream: HTTP request failed! in /home3/vishaltao/public_html/mytao/script/includeit.php on line 15
Warning: file_get_contents(http://news.analyticsweek.com/tw/newspull.php): failed to open stream: HTTP request failed! in /home3/vishaltao/public_html/mytao/script/includeit.php on line 15
Warning: file_get_contents(http://news.analyticsweek.com/tw/newspull.php): failed to open stream: HTTP request failed! in /home3/vishaltao/public_html/mytao/script/includeit.php on line 15
Warning: file_get_contents(http://news.analyticsweek.com/tw/newspull.php): failed to open stream: HTTP request failed! in /home3/vishaltao/public_html/mytao/script/includeit.php on line 15
[ COVER OF THE WEEK ]

Convincing Source

[ AnalyticsWeek BYTES]
>> May 29, 2017 Health and Biotech analytics news roundup by pstein
>> Part 8 of 9, Big Data/Data Lake Platforms: Removing Silos & Operationalizing Your Data by analyticsweekpick
>> The Modern Data Warehouse – Enterprise Data Curation for the Artificial Intelligence Future by analyticsweek
[ FEATURED COURSE]
[ FEATURED READ]
The Signal and the Noise: Why So Many Predictions Fail–but Some Don't
[ TIPS & TRICKS OF THE WEEK]
Data Have Meaning
We live in a Big Data world in which everything is quantified. While the emphasis of Big Data has been focused on distinguishing the three characteristics of data (the infamous three Vs), we need to be cognizant of the fact that data have meaning. That is, the numbers in your data represent something of interest, an outcome that is important to your business. The meaning of those numbers is about the veracity of your data.
[ DATA SCIENCE Q&A]
Q:Provide examples of machine-to-machine communications?
A: Telemedicine
– Heart patients wear specialized monitor which gather information regarding heart state
– The collected data is sent to an electronic implanted device which sends back electric shocks to the patient for correcting incorrect rhythms
Product restocking
– Vending machines are capable of messaging the distributor whenever an item is running out of stock

Source
[ VIDEO OF THE WEEK]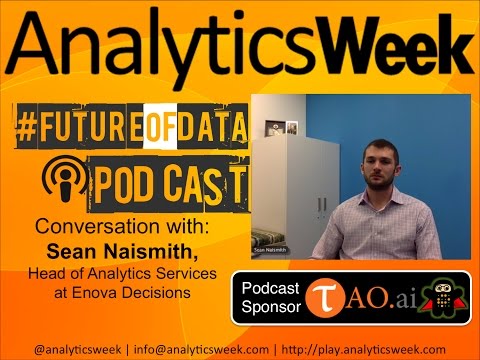 #FutureOfData Podcast: Conversation With Sean Naismith, Enova Decisions
Subscribe to Youtube
[ QUOTE OF THE WEEK]
Big Data is not the new oil. – Jer Thorp
[ PODCAST OF THE WEEK]
Harsh Tiwari talks about fabric of data driven leader in Financial Sector #FutureOfData #Podcast
Subscribe
[ FACT OF THE WEEK]
We are seeing a massive growth in video and photo data, where every minute up to 300 hours of video are uploaded to YouTube alone.