Warning: file_get_contents(http://events.analytics.club/tw/eventpull.php?cat=WEB): failed to open stream: HTTP request failed! in /home3/vishaltao/public_html/mytao/script/includeit.php on line 15
Warning: file_get_contents(http://events.analytics.club/tw/eventpull.php?cat=WEB): failed to open stream: HTTP request failed! in /home3/vishaltao/public_html/mytao/script/includeit.php on line 15
Warning: file_get_contents(http://events.analytics.club/tw/eventpull.php?cat=WEB): failed to open stream: HTTP request failed! in /home3/vishaltao/public_html/mytao/script/includeit.php on line 15
Warning: file_get_contents(http://events.analytics.club/tw/eventpull.php?cat=WEB): failed to open stream: HTTP request failed! in /home3/vishaltao/public_html/mytao/script/includeit.php on line 15
Warning: file_get_contents(http://events.analytics.club/tw/eventpull.php?cat=WEB): failed to open stream: HTTP request failed! in /home3/vishaltao/public_html/mytao/script/includeit.php on line 15
Warning: file_get_contents(http://events.analytics.club/tw/eventpull.php?cat=WEB): failed to open stream: HTTP request failed! in /home3/vishaltao/public_html/mytao/script/includeit.php on line 15
Warning: file_get_contents(http://news.analyticsweek.com/tw/newspull.php): failed to open stream: HTTP request failed! in /home3/vishaltao/public_html/mytao/script/includeit.php on line 15
Warning: file_get_contents(http://news.analyticsweek.com/tw/newspull.php): failed to open stream: HTTP request failed! in /home3/vishaltao/public_html/mytao/script/includeit.php on line 15
Warning: file_get_contents(http://news.analyticsweek.com/tw/newspull.php): failed to open stream: HTTP request failed! in /home3/vishaltao/public_html/mytao/script/includeit.php on line 15
[ COVER OF THE WEEK ]

Correlation-Causation Source

[ AnalyticsWeek BYTES]
>> Why I stopped practicing law? Because data is king. by analyticsweekpick
>> Charts Vs. Tables – Choosing the Right Visualization by analyticsweek
>> Where Big Data Projects Fail by analyticsweekpick
[ FEATURED COURSE]
Lean Analytics Workshop – Alistair Croll and Ben Yoskovitz
[ FEATURED READ]
Python for Data Analysis: Data Wrangling with Pandas, NumPy, and IPython
[ TIPS & TRICKS OF THE WEEK]
Grow at the speed of collaboration
A research by Cornerstone On Demand pointed out the need for better collaboration within workforce, and data analytics domain is no different. A rapidly changing and growing industry like data analytics is very difficult to catchup by isolated workforce. A good collaborative work-environment facilitate better flow of ideas, improved team dynamics, rapid learning, and increasing ability to cut through the noise. So, embrace collaborative team dynamics.
[ DATA SCIENCE Q&A]
Q:Is mean imputation of missing data acceptable practice? Why or why not?
A: * Bad practice in general
* If just estimating means: mean imputation preserves the mean of the observed data
* Leads to an underestimate of the standard deviation
* Distorts relationships between variables by "pulling" estimates of the correlation toward zero

Source
[ VIDEO OF THE WEEK]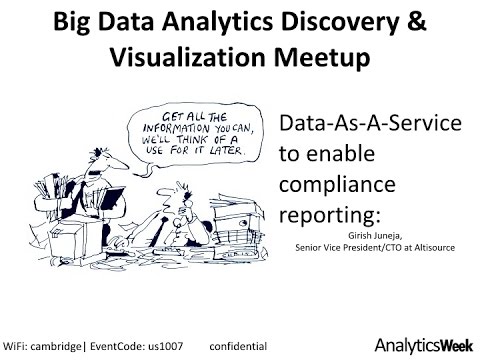 Data-As-A-Service (#DAAS) to enable compliance reporting
Subscribe to Youtube
[ QUOTE OF THE WEEK]
Data is the new science. Big Data holds the answers. – Pat Gelsinger
[ PODCAST OF THE WEEK]
#FutureOfData with @CharlieDataMine, @Oracle discussing running analytics in an enterprise
Subscribe
[ FACT OF THE WEEK]
Every second we create new data. For example, we perform 40,000 search queries every second (on Google alone), which makes it 3.5 searches per day and 1.2 trillion searches per year.In Aug 2015, over 1 billion people used Facebook FB +0.54% in a single day.