[ COVER OF THE WEEK ]

Data Mining Source

[ NEWS BYTES]
>>
Trick or treat! Halloween spending statistics – Seeking Alpha Under Statistics
>>
Battleground on drug price legislation shifts to states and so does lobbying by PhRMA – MedCity News Under Health Analytics
>>
Increase in Data Discovery Tools to Propel the Global Prescriptive Analytics Market – Edition Truth Under Prescriptive Analytics
[ FEATURED COURSE]
Statistical Thinking and Data Analysis
[ FEATURED READ]
Rise of the Robots: Technology and the Threat of a Jobless Future
[ TIPS & TRICKS OF THE WEEK]
Save yourself from zombie apocalypse from unscalable models
One living and breathing zombie in today's analytical models is the pulsating absence of error bars. Not every model is scalable or holds ground with increasing data. Error bars that is tagged to almost every models should be duly calibrated. As business models rake in more data the error bars keep it sensible and in check. If error bars are not accounted for, we will make our models susceptible to failure leading us to halloween that we never wants to see.
[ DATA SCIENCE Q&A]
Q:Explain what resampling methods are and why they are useful?
A: * repeatedly drawing samples from a training set and refitting a model of interest on each sample in order to obtain additional information about the fitted model
* example: repeatedly draw different samples from training data, fit a linear regression to each new sample, and then examine the extent to which the resulting fit differ
* most common are: cross-validation and the bootstrap
* cross-validation: random sampling with no replacement
* bootstrap: random sampling with replacement
* cross-validation: evaluating model performance, model selection (select the appropriate level of flexibility)
* bootstrap: mostly used to quantify the uncertainty associated with a given estimator or statistical learning method

Source
[ VIDEO OF THE WEEK]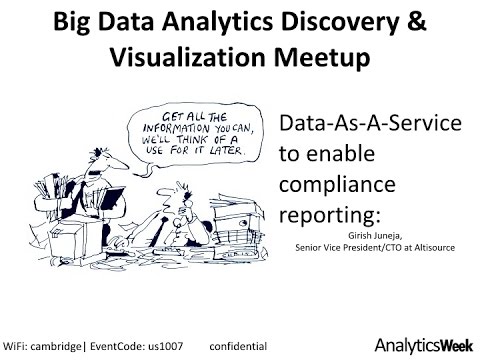 Data-As-A-Service (#DAAS) to enable compliance reporting
Subscribe to Youtube
[ QUOTE OF THE WEEK]
He uses statistics as a drunken man uses lamp posts—for support rather than for illumination. – Andrew Lang
[ PODCAST OF THE WEEK]
Pascal Marmier (@pmarmier) @SwissRe discusses running data driven innovation catalyst
Subscribe
[ FACT OF THE WEEK]
Data production will be 44 times greater in 2020 than it was in 2009.