[ COVER OF THE WEEK ]

Human resource Source

[ NEWS BYTES]
>>
Texas insurers to cover advanced breast cancer screenings – Texas Tribune Under Health Analytics
>>
Google Cloud adds firewall to App Engine | ZDNet – ZDNet Under Cloud
>>
East Africa: Liquid Telecom Releases IOT Report 2017 During #iotas2017 – AllAfrica.com Under IOT
[ FEATURED COURSE]
Applied Data Science: An Introduction
[ FEATURED READ]
Introduction to Graph Theory (Dover Books on Mathematics)
[ TIPS & TRICKS OF THE WEEK]
Strong business case could save your project
Like anything in corporate culture, the project is oftentimes about the business, not the technology. With data analysis, the same type of thinking goes. It's not always about the technicality but about the business implications. Data science project success criteria should include project management success criteria as well. This will ensure smooth adoption, easy buy-ins, room for wins and co-operating stakeholders. So, a good data scientist should also possess some qualities of a good project manager.
[ DATA SCIENCE Q&A]
Q:What are feature vectors?
A: * n-dimensional vector of numerical features that represent some object
* term occurrences frequencies, pixels of an image etc.
* Feature space: vector space associated with these vectors

Source
[ VIDEO OF THE WEEK]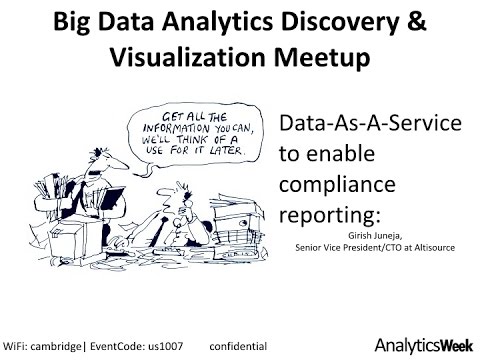 Data-As-A-Service (#DAAS) to enable compliance reporting
Subscribe to Youtube
[ QUOTE OF THE WEEK]
Without big data, you are blind and deaf and in the middle of a freeway. – Geoffrey Moore
[ PODCAST OF THE WEEK]
#BigData @AnalyticsWeek #FutureOfData #Podcast with @ScottZoldi, @FICO
Subscribe
[ FACT OF THE WEEK]
Retailers who leverage the full power of big data could increase their operating margins by as much as 60%.