[ COVER OF THE WEEK ]

Data security Source

[ AnalyticsWeek BYTES]
>> May 1, 2017 Health and Biotech analytics news roundup by pstein
>> Navigating Big Data Careers with a Statistics PhD by anum
>> What Big Data Analytics Professionals Want From IT by analyticsweekpick
[ NEWS BYTES]
>>
Apple To Open Data Center In China With Government Ties – Manufacturing.net Under Data Center
>>
Internet of things sensors could connect via ambient radio waves … – ScienceBlog.com (blog) Under Internet Of Things
>>
Machine Learning Education: 3 Paths to Get Started – Datanami Under Machine Learning
[ FEATURED COURSE]
[ FEATURED READ]
Superintelligence: Paths, Dangers, Strategies
[ TIPS & TRICKS OF THE WEEK]
Data aids, not replace judgement
Data is a tool and means to help build a consensus to facilitate human decision-making but not replace it. Analysis converts data into information, information via context leads to insight. Insights lead to decision making which ultimately leads to outcomes that brings value. So, data is just the start, context and intuition plays a role.
[ DATA SCIENCE Q&A]
Q:Why is naive Bayes so bad? How would you improve a spam detection algorithm that uses naive Bayes?
A: Naïve: the features are assumed independent/uncorrelated
Assumption not feasible in many cases
Improvement: decorrelate features (covariance matrix into identity matrix)

Source
[ VIDEO OF THE WEEK]
#BigData @AnalyticsWeek #FutureOfData #Podcast with Dr. Nipa Basu, @DnBUS
Subscribe to Youtube
[ QUOTE OF THE WEEK]
If we have data, let's look at data. If all we have are opinions, let's go with mine. – Jim Barksdale
[ PODCAST OF THE WEEK]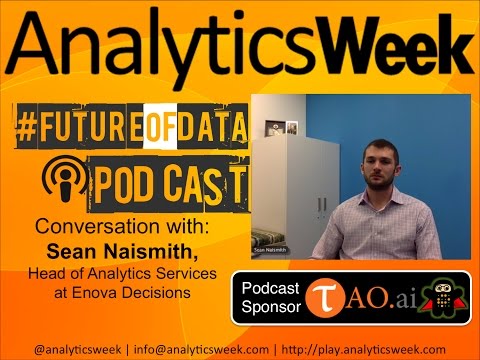 #FutureOfData Podcast: Conversation With Sean Naismith, Enova Decisions
Subscribe
[ FACT OF THE WEEK]
Brands and organizations on Facebook receive 34,722 Likes every minute of the day.