Customer feedback programs (sometimes referred to as Voice of the Customer Programs, Customer Loyalty Programs) are widely used by many companies. These customer feedback programs are designed to help them understand their customers' attitudes and experiences to ensure they are delivering a great customer experience. The ultimate goal of a customer feedback program is to maximize customer loyalty, consequently improving business performance (Hayes, 2010).
Chief Customer Officers and the like look to industry professionals for help and guidance to implement or improve their customer feedback programs. These industry professionals, in turn, offer a list of best practices for implementing/running customer feedback programs (I'm guessing there are as many of these best practice lists as there are industry professionals). I wanted to create a list of best practices that was driven by empirical evidence. Does adoption of best practices actually lead to more effective programs? How do we define "effective"? Are some best practices more critical than others? I addressed these questions through a systematic study of customer feedback programs and what makes them work. I surveyed customer feedback professionals across a wide range of companies (including Microsoft, Oracle, Akamai) about their customer feedback program. Using these data, I was able to understand why some programs are good (high loyalty) and others are not (low loyalty).  If you are a customer feedback professional, you can take the best practices survey here: http://businessoverbroadway.com/resources/self-assessment-survey to understand how your company stacks up against best practices standards in customer feedback programs.
I will present the major findings of the study here, but for the interested reader, the full study can be found in my book, Beyond the Ultimate Question. While no best practices list can promise results (my list is no different), research shows that the following 20 best practices will greatly improve your chances of achieving improved customer relationship management and increasing customer loyalty.
Components of Customer Feedback Programs
Before I talk about how to best structure a customer feedback program, let us take a 30,000-ft view of an enterprise-wide customer feedback program. A customer feedback program involves more than simply surveying customers. To be useful, a customer feedback program must successfully manage many moving parts of the program, each impacting the effectiveness of the overall program. The elements of customer feedback programs can be grouped into six major areas or components. These components are: Strategy, Governance, Business Process Integration, Method, Reporting, and Applied Research. Figure 1 below represents the components of customer feedback programs.
Strategy involves the executive-level actions that set the overarching guidelines around the company's mission and vision regarding the company objectives. Governance deals with the organization's policies surrounding the customer feedback program. Business Process Integration deals with the extent to which the customer feedback program is integrated into the daily business processes. Method deals with the way in which customer feedback data are collected. Reporting is involved in the way in which customer feedback data are summarized and disseminated throughout the company. Finally, Applied Research focuses on the extent to which companies gain additional operational and business insight through systematic research using their customer feedback data.
Best Practices Study and General Findings
While many companies have a formal customer feedback program, only some of them experience improvements in customer loyalty while the other companies find that their customer loyalty remains flat. To understand why this difference occurs, I conducted a study to understand how loyalty leading companies, compared to loyalty lagging companies, structure their customer feedback programs (see Hayes (2009) for details of the study methodology).
A total of 277 customer feedback professionals from midsize to large companies completed a survey about their company's customer feedback program. The respondents indicated whether their company adopts 28 specific business practices related to their customer feedback program (e.g., senior executive is champion of customer feedback program; Web-based surveys are used to collect customer feedback). Additionally, respondents were asked to provide an estimate of their company's customer loyalty ranking within their industry; this question was used to segment customers into loyalty leaders (companies with a loyalty ranking of 70% or higher) and loyalty laggards (companies with a loyalty ranking below 70%).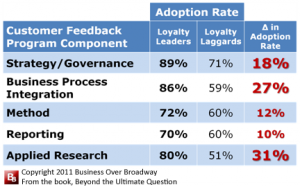 The survey results revealed real differences between loyalty leaders and loyalty laggards in their customer feedback programs (See Table 1). There were statistically significant differences in adoption rates between loyalty leaders and loyalty laggards across many of the business practices. Loyalty leading companies were more likely to adopt specific practices compared to their loyalty lagging counterparts, especially in areas related to strategy/governance, integration and applied research. In upcoming posts, I will explore each component of the customer feedback program and present best practices for each.
Take the Customer Feedback Programs Best Practices Survey
If you are a customer feedback professional, you can take the best practices survey to receive free feedback on your company's customer feedback program. This self-assessment survey assesses the extent to which your company adopts best practices throughout their program. Go here to take the free survey:
http://businessoverbroadway.com/resources/self-assessment-survey
.