Warning: file_get_contents(http://events.analytics.club/tw/eventpull.php?cat=WEB): failed to open stream: HTTP request failed! HTTP/1.0 404 Not Found
in /home3/vishaltao/public_html/mytao/script/includeit.php on line 15
Warning: file_get_contents(http://events.analytics.club/tw/eventpull.php?cat=WEB): failed to open stream: HTTP request failed! HTTP/1.0 404 Not Found
in /home3/vishaltao/public_html/mytao/script/includeit.php on line 15
Warning: file_get_contents(http://events.analytics.club/tw/eventpull.php?cat=WEB): failed to open stream: HTTP request failed! HTTP/1.0 404 Not Found
in /home3/vishaltao/public_html/mytao/script/includeit.php on line 15
Warning: file_get_contents(http://events.analytics.club/tw/eventpull.php?cat=WEB): failed to open stream: HTTP request failed! HTTP/1.0 404 Not Found
in /home3/vishaltao/public_html/mytao/script/includeit.php on line 15
Warning: file_get_contents(http://events.analytics.club/tw/eventpull.php?cat=WEB): failed to open stream: HTTP request failed! HTTP/1.0 404 Not Found
in /home3/vishaltao/public_html/mytao/script/includeit.php on line 15
Warning: file_get_contents(http://events.analytics.club/tw/eventpull.php?cat=WEB): failed to open stream: HTTP request failed! HTTP/1.0 404 Not Found
in /home3/vishaltao/public_html/mytao/script/includeit.php on line 15
Warning: file_get_contents(http://news.analyticsweek.com/tw/newspull.php): failed to open stream: HTTP request failed! in /home3/vishaltao/public_html/mytao/script/includeit.php on line 15
Warning: file_get_contents(http://news.analyticsweek.com/tw/newspull.php): failed to open stream: HTTP request failed! in /home3/vishaltao/public_html/mytao/script/includeit.php on line 15
Warning: file_get_contents(http://news.analyticsweek.com/tw/newspull.php): failed to open stream: HTTP request failed! in /home3/vishaltao/public_html/mytao/script/includeit.php on line 15
[ COVER OF THE WEEK ]

Human resource Source

[ AnalyticsWeek BYTES]
>> The Big Data Debate: Batch vs. Streaming Processing by analyticsweekpick
>> The Changing Landscape of Customer Acquisition, Engagement and Retention in 2020 by administrator
>> 'Big Data' Alters Investment Research Landscape by analyticsweekpick
[ FEATURED COURSE]
Lean Analytics Workshop – Alistair Croll and Ben Yoskovitz
[ FEATURED READ]
Storytelling with Data: A Data Visualization Guide for Business Professionals
[ TIPS & TRICKS OF THE WEEK]
Data Have Meaning
We live in a Big Data world in which everything is quantified. While the emphasis of Big Data has been focused on distinguishing the three characteristics of data (the infamous three Vs), we need to be cognizant of the fact that data have meaning. That is, the numbers in your data represent something of interest, an outcome that is important to your business. The meaning of those numbers is about the veracity of your data.
[ DATA SCIENCE Q&A]
Q:What is latent semantic indexing? What is it used for? What are the specific limitations of the method?
A: * Indexing and retrieval method that uses singular value decomposition to identify patterns in the relationships between the terms and concepts contained in an unstructured collection of text
* Based on the principle that words that are used in the same contexts tend to have similar meanings
* "Latent": semantic associations between words is present not explicitly but only latently
* For example: two synonyms may never occur in the same passage but should nonetheless have highly associated representations
Used for:
* Learning correct word meanings
* Subject matter comprehension
* Information retrieval
* Sentiment analysis (social network analysis)

Source
[ VIDEO OF THE WEEK]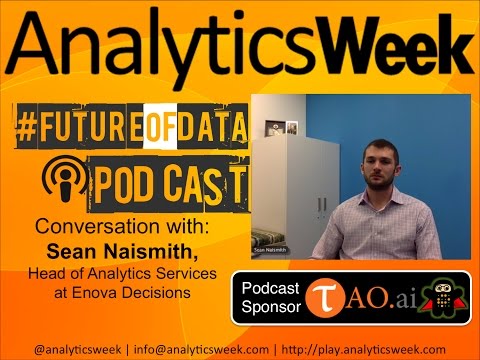 #FutureOfData Podcast: Conversation With Sean Naismith, Enova Decisions
Subscribe to Youtube
[ QUOTE OF THE WEEK]
The data fabric is the next middleware. – Todd Papaioannou
[ PODCAST OF THE WEEK]
#BigData @AnalyticsWeek #FutureOfData #Podcast with Juan Gorricho, @disney
Subscribe
[ FACT OF THE WEEK]
Estimates suggest that by better integrating big data, healthcare could save as much as $300 billion a year — that's equal to reducing costs by $1000 a year for every man, woman, and child.